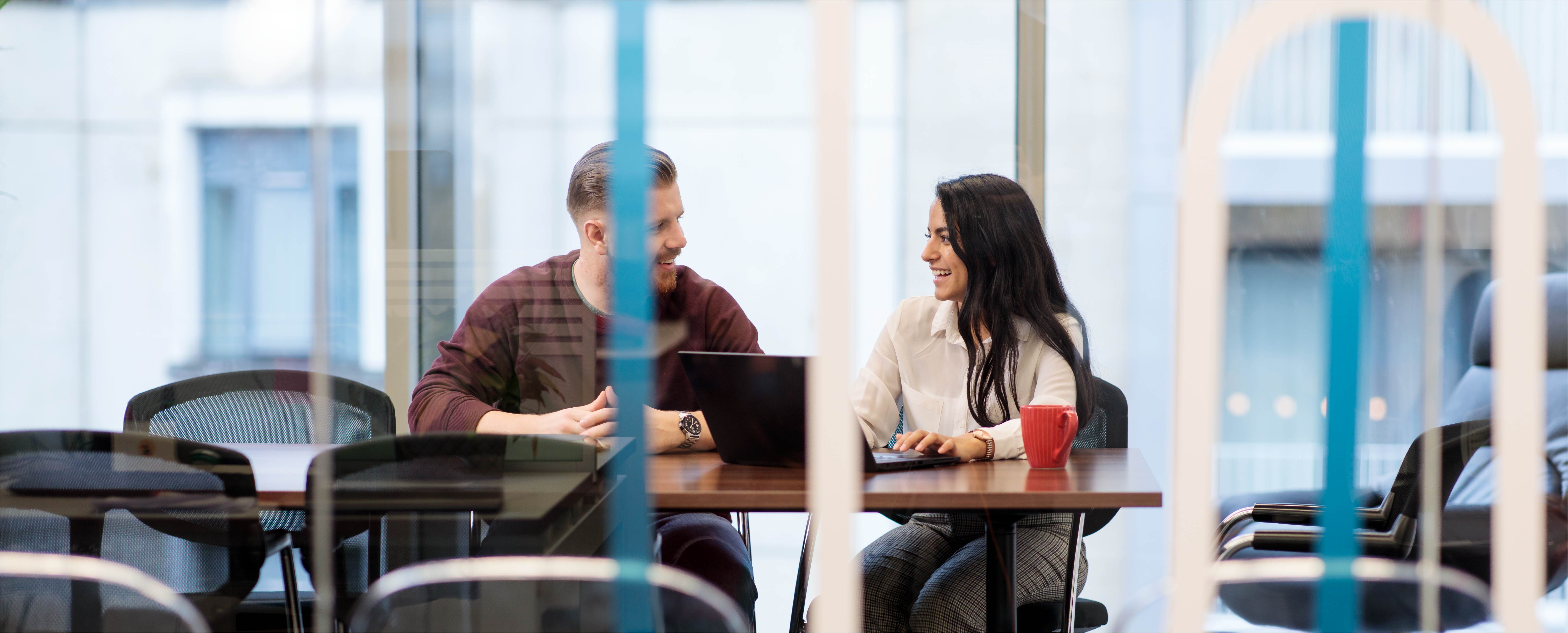 Working in Marketing: Collaborating, running, and more
Typically, they're the ones that work behind the scenes: holding the video camera, creating the content, writing the script, or planning the event. And this might be how they like it, but it's about time we put a spotlight on TOPdesk UK's marketing team!
Beth is our resident PR and Copywriter. Like several of her fellow colleagues, Beth is an ex-lead generation team member, transitioning from her student role to the one she currently holds in 2019. She's usually the one hiding behind the camera, so roles have reversed as we find out all about Beth's time at TOPdesk in the marketing team.
From writer to hiker
"My current role at TOPdesk is one which requires many skills. So, studying multimedia journalism at the University of Salford where I developed my strong interest in writing and creating images, videos, and designs, meant I gave myself a slight head start! Speaking of which, if you see me outside of work, I'll be either donning my running trainers for a 5k, lacing my hiking boots for an adventure, or slipping on my gardening gloves."
Being an all-rounder
"Being a PR and Copywriter isn't as cut and dry as it might sound. Yes, I'm responsible for TOPdesk UK's PR activities – which includes strategic planning, pitching to journalists, writing thought leadership content, managing PR results, and writing press releases – but I also look after our social media channels (from Twitter to Instagram), create content for our internal business units, write customer case studies, and liaise with the events team on stand design, socials, and content.
It really is a job with a wide range of responsibilities. Thus, every day is different and brings a new challenge. Being an all-rounder is key to the role and I enjoy calling upon my wide skill set from writing to knowledge of the Adobe suite."
With so many creatives locally and internationally, there's always someone new to gain knowledge or muse from.
Beth
A strong squad
"The thing about marketing as a discipline is that one tactic alone is weak, but multiple tactics together are powerful. Therefore, as marketers, we rely on each other to collectively elevate the TOPdesk brand and product.
In the UK, we have an events team, a brand specialist, and myself, the PR and content creator. Internationally, this pool of marketeers grows. There are local marketing specialists in each of the TOPdesk branches and an international group who strive to make TOPdesk a consistent global brand.
So, when it comes to my team, there are not just one or two people to go to for advice. Instead, it's more like ten, or a hundred! And I feel so lucky to have this breadth of knowledge and skill at my fingertips."
The order of play
"I can't speak for the fellow TOPdesk UK marketers when it comes to what a typical day looks like, but in the world of PR and copywriting, it's as follows."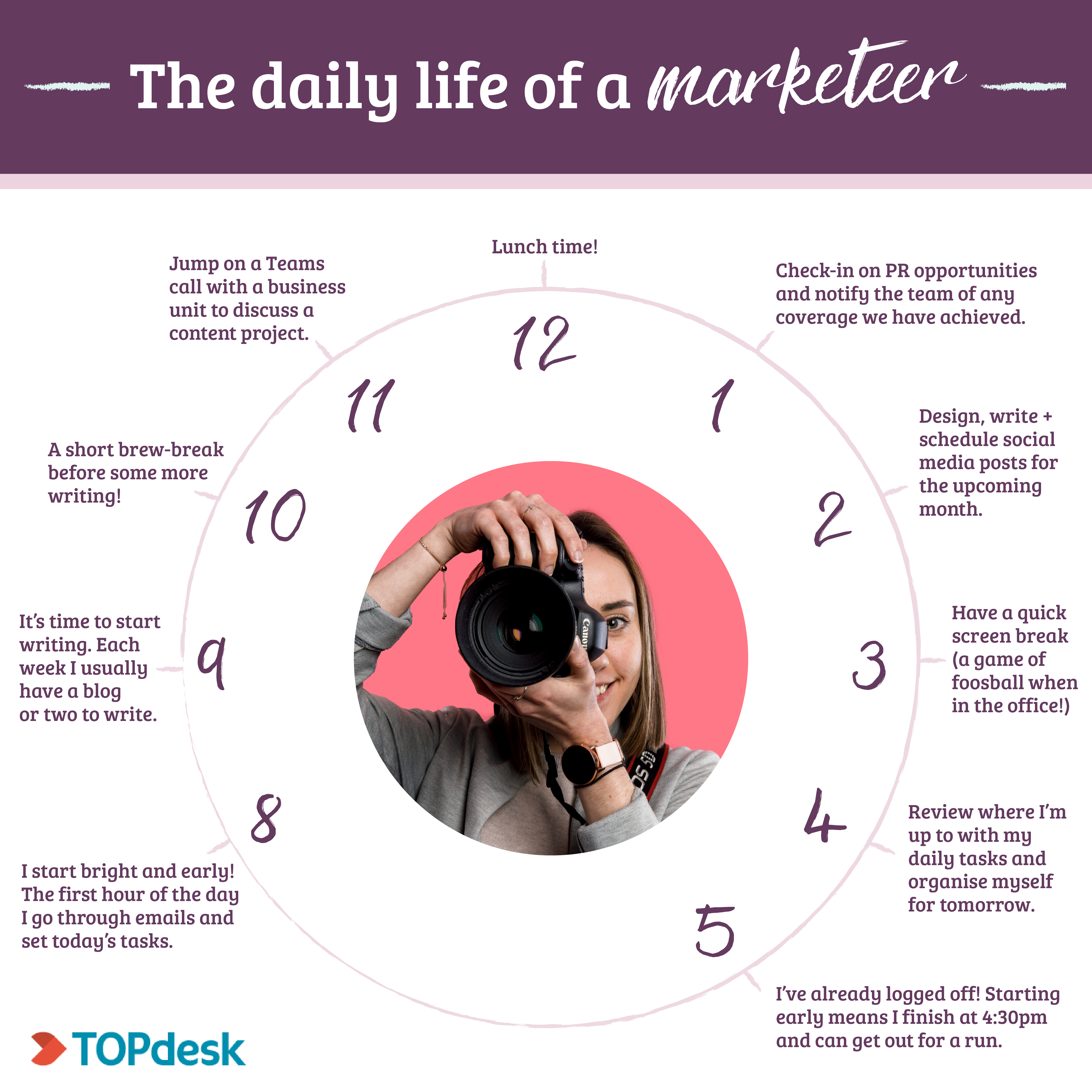 Always someone in your corner
"My role requires a lot of creativity and sometimes the best inspiration comes from collaborating with others. Luckily, a brainstorming session is something my colleagues enjoy as much as I do. And with so many creatives locally and internationally, there's always someone new to gain knowledge or muse from.
I think this is testament to the team spirit: there's always a TOPdesker who you can call upon to help you, provide some motivation, have a laugh with, or a boring chat about the weather!"
A winning culture
"When it comes to the TOPdesk culture, I truly appreciate the flexibility, support, and trust we are given. All of these qualities have allowed me to thrive in my role.
But I also feel something bigger being part of this company. I have made lifelong friends at TOPdesk, I have been encouraged to make a difference outside of my job by doing charity work in the local community and raising money in collaboration with my colleagues during Movember, and I have always felt that my work is having an impact."