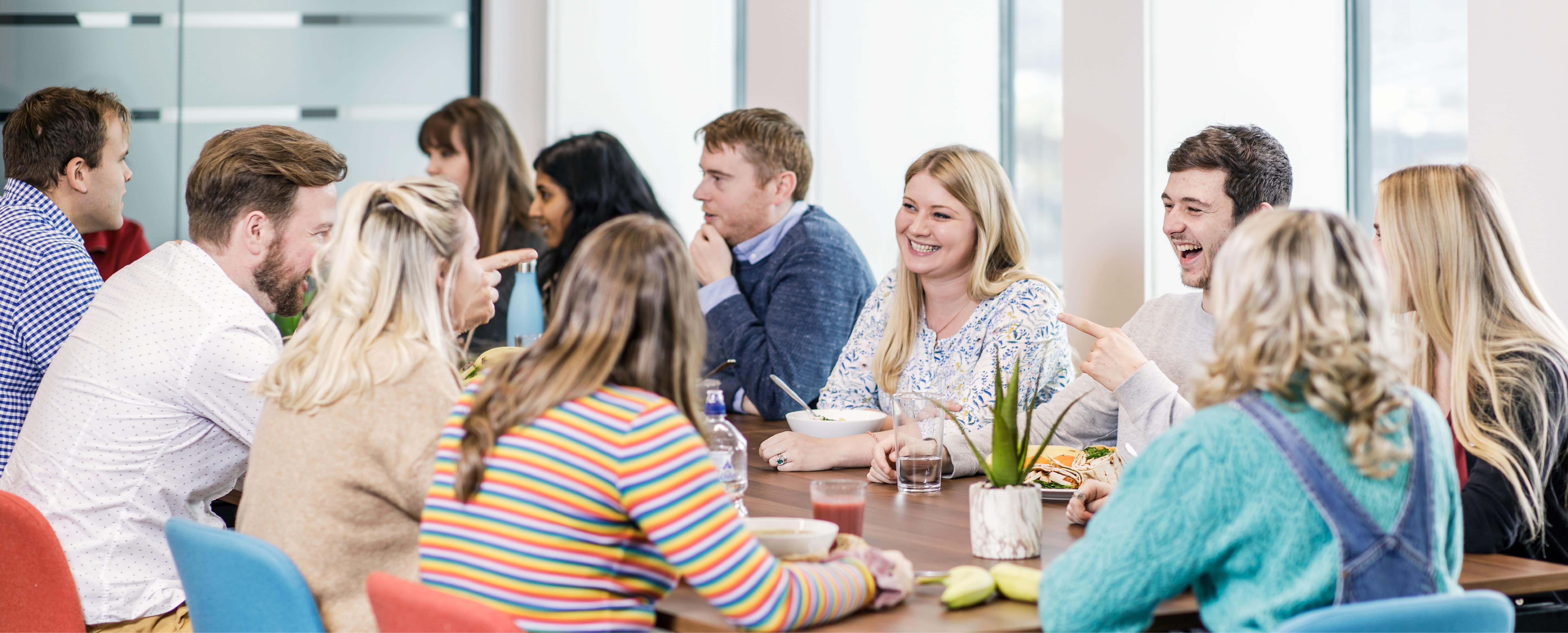 Is your workplace inclusive and can you identify cultural advocates for what you want to achieve in terms of culture? At TOPdesk we have committed critical thinking and energy, for a long time, in developing our company ethos. It sets us apart in terms of how we interact with our colleagues and how we engage with our fabulous clients. The foundation of what we aim to achieve can be described in 3 words:
Trust, Freedom, and Responsibility.
But what does this really mean? These words sound positive but can be interpreted in numerous ways. We keep our interpretation fresh by hosting regular workshops, led by our in-house culture experts, where we delve into how these words and the sentiment by which they're communicated, effect our every day, working lives. Company surveys and regular drop-in sessions, with key leaders, are great ways to keep a regular pulse at the heart of your business.
I have worked within several departments across numerous companies and it has always struck me that there is an ever-present intention to conjure positivity and loyalty towards a brand through inspiring words such as these. The test for us at TOPdesk was how this feeling was felt on the shop floor. Our origins are Dutch, but this culture, I believe, is more a totem for a TOPdesker's way of life than a geographical norm. We are internationally minded, with 15 TOPdesk branches across 11 different countries, it is a key focus for anyone involved with people at TOPdesk that the culture exudes at whatever branch you happen to be standing in. We work in an agile way and global collaboration is a daily occurrence so the experience should be the same whoever you are talking to, wherever they are in the world. 360 feedback from across the workforce is hugely powerful and if you're talking about culture at your place of work then everyone needs to be involved in its evolution.
Our working culture imbues colleagues with trust to do things, they have the freedom to decide how to do it and their innate sense of responsibility means they will get the job done
David
These pillars of our corporate culture are integral to our environment and continued growth. These three words cannot fully communicate the way in which we work but they are a good starting point. It is essential that our leadership team and experienced colleagues from all departments live and breathe this attitude. Ensuring we have a management team that is humble, who live to serve their team members and facilitate the success of others, is only the first step of ensuring we maintain our continued success within our industry. It begins with recruiting the right profiles and personnel who will flourish when encouraged to try new things, make mistakes and those who don't rely on micro-management. This way of working isn't for everyone and I am lucky enough to meet a host of talented individual's daily, as part of my recruitment remit, but understand that I have to walk away from those who don't embody the curious, entrepreneurial and collaborative DNA that makes us who we are.
Our chosen philosophy only works because of our flat hierarchy and open-door policy. That is the beauty of working in an industry that is ever-evolving and looking for new and innovative ways to make progress. It results in superfans amongst our customer base, as this approach generates energy that drives positive relationships and we are very appreciative of their loyalty.
For any company, there is a responsibility to drive the conversation about the emotional side of their business and as I'm focussed on people in my role, it is of particular pertinence to me. It is essential that whatever your culture is, it works for the profile of colleagues you have because when you get it right it has an amazing impact on the level of engagement and morale of the team. To find out more about life at TOPdesk or what we could do to help streamline your service management business processes, please don't hesitate to drop me a line on LinkedIn. I would love to learn what drives your working culture.