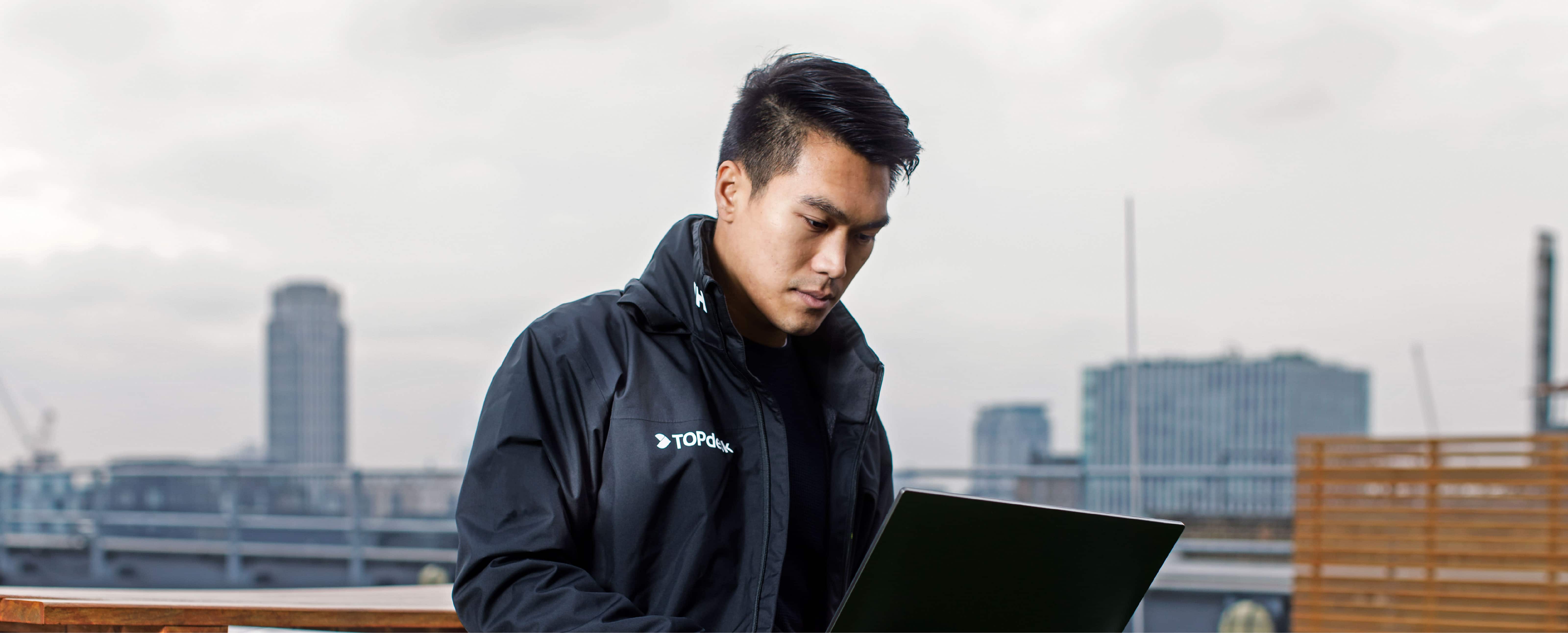 Working in Consultancy: Culture, knowledge, and more
Patrick is a member of the TOPdesk UK consultancy team, a diverse group of service management experts who travel the breadth of the UK implementing the TOPdesk tool. He joined the company in September 2019, having graduated from University College London with a master's degree in International Political Economy. Since then, Patrick has been learning on the job through hands-on experience at current clients along with local and international training.
He took some time out of his busy schedule to tell us about his first six months at TOPdesk.
Getting to grips with the basics…
"My first month at TOPdesk was spent finding my feet. This meant that although I was not assigned to any project, I was introduced to the organisation, its culture, and my new colleagues. I quickly learned that TOPdesk's culture is integral to the running of the business and plays a vital role in the company's overall performance. Seminal to TOPdesk's culture is the company's non-hierarchical structure which promotes an environment where I can be myself, raise concerns, and innovate without the fear of failure. I am encouraged to voice my opinions, contribute to discussions, and experienced consultants are always accessible to answer my questions.
As I discovered during an overseas training week to TOPdesk's head office in Delft, the Netherlands, this inclusive culture is replicated internationally. The Dutch consultants know the British consultants personally and they frequently collaborate on international projects – an exciting prospect!"
To help manage my work-life balance, TOPdesk entrusts me with the trust, freedom, and responsibility to control when, where, and how I work.
Patrick
Growing with TOPdesk
"Following an intensive month of assimilating to the TOPdesk culture, I spent two months developing extensive product knowledge. Particularly helpful to the training process are the monthly consultancy knowledge days. Here, TOPdesk consultants voluntarily present on the latest knowledge in their specialised industry. These insights give me a greater understanding of the responsibilities as a consultant and help to build my confidence. Moreover, through the collaboration that the knowledge days incentivise, my development has benefited from access to high-level information. TOPdesk has encouraged me to take advantage of these training and upskilling opportunities, along with external opportunities. For example, I completed the ITIL 4 Foundations course and have subsequently registered for an Agile Project Management course."
Exploring the world of consultancy
"With a good base of TOPdesk knowledge behind me, it was time to experience real-life consultancy for the first time. I shadowed other consultants in the beginning, before being assigned individual sessions to run independently. Then, I was assigned my first project. I quickly learned the soft skills that are essential to a consultant, such as managing difficult situations and building productive relationships with clients. What made my start at TOPdesk so great was the immediate and breadth of exposure I experienced. I worked on several projects with business leaders in multiple fields from the national government, non-profit to a multi-national law firm. Being immersed in a variety of organisations, with different business objectives, helped me to realise how I could harness my product knowledge to deliver value to customers."
Overcoming challenges and embracing the TOPdesk culture
"It is important to acknowledge that there have been challenges in my first six months at TOPdesk, such as having to adapt to the travel and the hours of learning about the software. However, there is a great support network at TOPdesk within the consultancy department, from the managing directors, and the wider team. To help manage my work-life balance, TOPdesk entrusts me with the trust, freedom, and responsibility to control when, where, and how I work."
By Patrick Marmion.