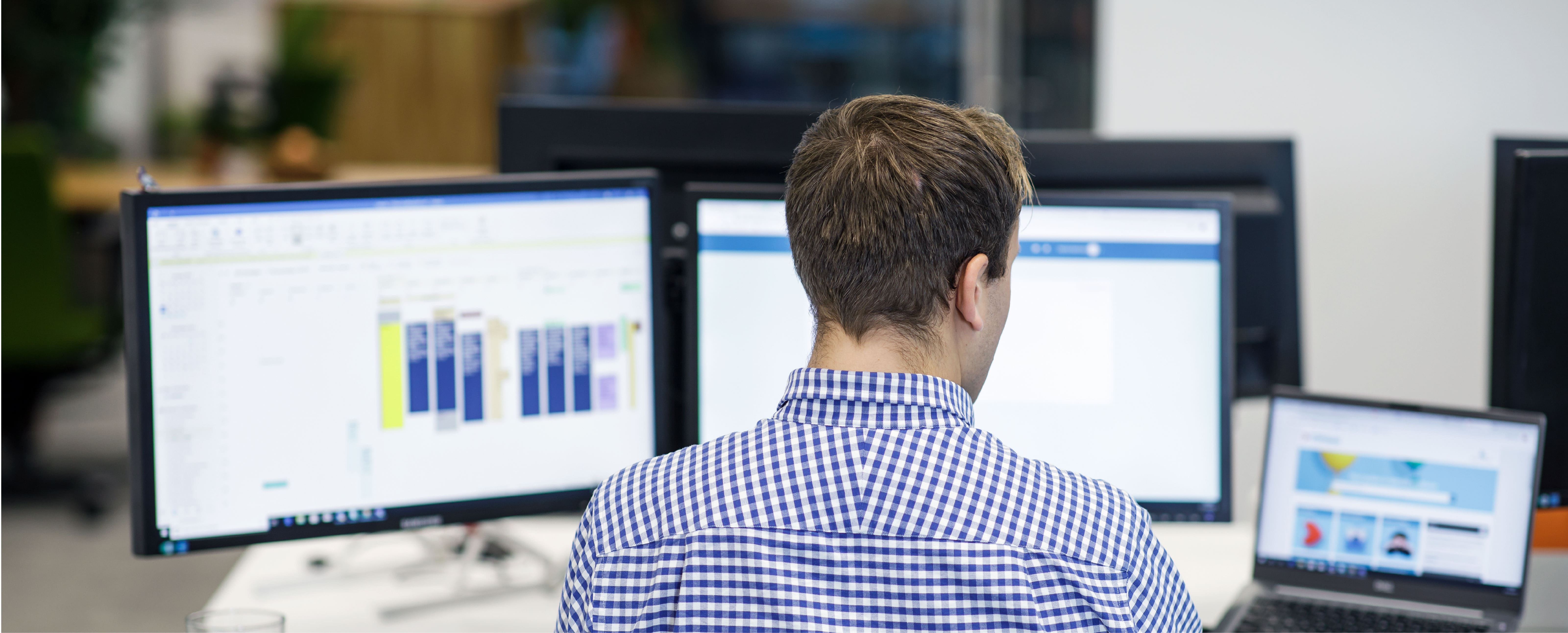 Working in Support: Incidents, table tennis, and more
Lloyd joined the TOPdesk UK support team as a technical product consultant in September 2019. Since then he's learned all there is to know about the software, his international colleagues, and of course, table tennis! Lloyd took some time out of supporting our customers to tell us about his journey so far.
Was TOPdesk love at first sight?
"I found out about the company through my work in a previous role for an organisation that used TOPdesk as their ITSM (IT service management) tool. I was using the software as an operator for a managed services provider that dealt with public and private data storage, data backup, and security. My exposure in this role was mostly centered around the change management module, as I was part of a team that made changes to customer environments. We used change management on a daily basis to request and approve changes, log time completing work, and to review the outcome of these changes and whether they were successful."
From winemaker to TOPdesker!
"I have a degree in Information and Communications Technology. Since graduating, I've worked for an international media company working in their technical operations department, on the digital distribution of films. As mentioned, I also worked for a managed services provider as a technical engineer and consultant to companies around the UK, working on both public and private data storage solutions. Before working for TOPdesk, I also did a year working for a vineyard and gained a lot of knowledge behind the science of growing and making wine!"
A typical day in Support
"A typical day as a technical product consultant consists of answering all kinds of questions, not just from customers representing a variety of sectors, but also from colleagues (in particular sales and consultancy), all with different experience levels, requirements, and setups within TOPdesk. This means that for each incident, we have to understand what the person we are speaking to is trying to do and how they want to achieve this. These incidents can range from simple, such as giving instructions on how to find a certain button or setting, to complex, which may involve re-creating an issue or investigating unexpected behaviour. These incidents are more challenging because we need to work with the customer to investigate exactly what went wrong and how we can reproduce this behaviour in order to get as much information as possible to report back to the development team. From here, we can then focus on finding a solution or a temporary workaround.
Another day may involve training both ourselves and others, as the product is constantly evolving and we always need to keep on top of the latest additions. Some days are spent working on projects with other teams that benefit our customers or the business as a whole, and of course between all of this there's time for table tennis, darts or foosball!"
TOPdesk has a collaborative and connected workforce worldwide, which is very noticeable in the way the support teams work and interact.
Lloyd
International collaboration: time for knowledge sharing and socialising!
"We are a streamlined operation within the UK, but we have a lot of knowledge across all areas of TOPdesk. We also work closely together with our international colleagues to resolve incidents and solve problems. Effective communication and knowledge sharing is key to our success and we're always striving to be better. Although we spend all day together, we still like to socialise outside of work and have regular support team building events, usually involving nice food, drinks, and a bit of healthy competition!
These traits also carry across globally with our international colleagues in the 80+ strong global support team. TOPdesk has a connected workforce worldwide which is very noticeable in the way the support teams work and collaborate. When I joined TOPdesk, I did two weeks of training in our head office in Delft, the Netherlands. This was more about meeting the other supporters and getting to know people, than learning the material, as we are all in contact regularly so it helps to be able to put a name to a face!
Support teams also come together once every 18 months for the international support week filled with knowledge sharing and workshops, followed by a weekend away for networking, socialising, and other activities."
The trust, freedom and responsibility to deliver service excellence
"TOPdesk's culture is based around the core values of trust, freedom and responsibility, and this is evident in the way people work day-to-day. Everyone within TOPdesk has different interpretations of exactly what these values mean, but within the support team, we trust each other to get on with what's required, to meet deadlines and to deliver on service excellence. We have the freedom to explore new projects, work to our own pace, and flexibility in how we address certain issues. Each member of the team has the responsibility of maintaining this high standard while also finding ways to improve processes to become more efficient.
TOPdesk culture isn't all about the work. A healthy work/life balance is actively encouraged and this can be seen throughout the office, events and workshops held regularly that promote a different way of thinking. We often take breaks throughout the day which helps you get out of your seat, move around and take your eyes off the screen for a while! We also have the Dutch tradition of 'borrel' every Friday (drinks in the office) to encourage the social aspect. Additionally, TOPdesk host regular social events throughout the year between branches, departments and teams for teambuilding and getting to know each other, for example the company-wide annual international week and summer party in the Netherlands, as well as smaller, UK-only events.
If you have any questions about Support, then please feel free to connect with me on LinkedIn, or read about TOPdesk life on Glassdoor."