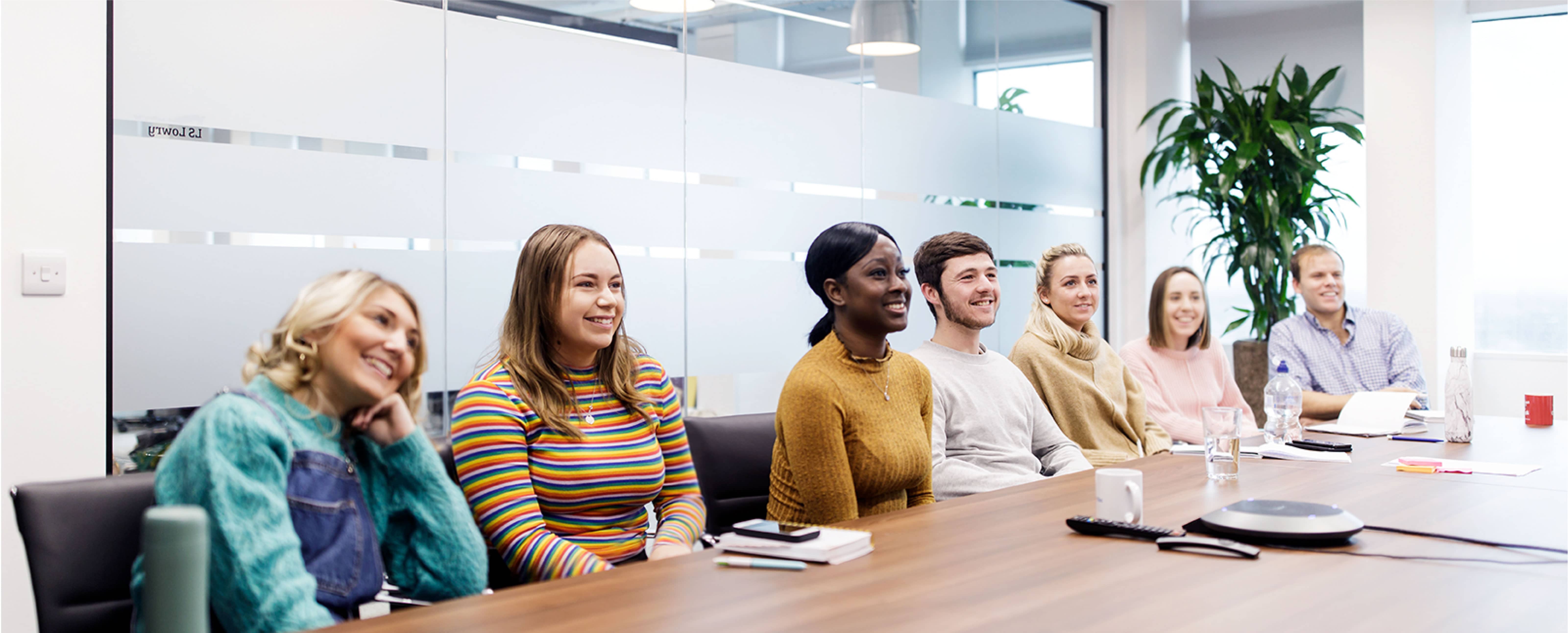 Working as Senior Business Development Executive: Leads, development, and more
The Senior Business Development Executives team at TOPdesk play a hugely important role in the sales funnel. They are our go-getters, nurturing leads and making an impact on every aspect of the company. The team is split between our London and Manchester branches. They work in business units on innovative new projects and directly with Account Managers to introduce the benefits of TOPdesk to organisations such as, Universities or Managed Service Providers.
Elsa, Jess, and Lavina all joined the SBDE team directly after finishing their studies, finding TOPdesk through careers websites and job fairs! They sat down together to chat about their experiences from venturing into the world of work to developing and becoming a vital member of the team:
Sales: perfect for a go-getter!
"During university, I did a few marketing internships, which I enjoyed. However, I really felt like I was missing out on interacting with people. I looked into a role in sales, and during my research I was given an analogy of sales vs marketing: marketing is the gun that you shape, design, and brand whereas sales is pulling the trigger!  
In sales you're the go-getter, you speak to the clients and sell based on the brand that's been built behind the scenes. I really wanted a role that was fast-paced, dynamic, and people-centered, which is ultimately why I decided to pursue a career in sales." – Jess 
First impressions, first role
"When I began searching for my first role outside of university, it was really important to me to find the right environment, people, and culture. This is what sold TOPdesk to me! The UK team is small which meant I could get to know everybody in the office, but the global aspect of TOPdesk means that we have a big community to dip into: something I highly value. 
My first impressions of the SBDE role at TOPdesk were equally positive. Learning about a new piece of technology or software can be overwhelming but there was always somebody available to help me. I was given both internal and external training and never felt like I couldn't do it!" – Elsa 
Making an impact early on
"The thing about the SBDE role is that we are not limited in what we can do, I realised very early on that I could make an impact throughout the whole company. The TOPdesk values of trust, freedom, and responsibility are taken very seriously. This means we have the trust to nurture our own leads, the freedom to take on new projects, and the responsibility to own our successes and failures. 
Every day is so different. One day I'm working solely on my leads, another I'll be collaborating with marketing, training up our Lead Generation team or even attending an event – which is definitely my favourite part of the job!" – Lavina  
Developing personally and professionally, while developing leads
"I joined TOPdesk in November 2017 and since then I have developed a huge amount. In a professional sense, my sales skills have massively improved. I didn't have any sales experience before joining the company, but I have become more confident and I now believe in my abilities.  
I have also grown in wanting more for myself, to have more responsibilities and TOPdesk have given me the opportunities to pursue this. For example, being a big part of designing our own business unit led event: TOPdesk Hot Topics. I have also become a member of the Diversity and Inclusion Guild which has given me the chance to directly invoke change by discussing how we can improve with the company CEO Wolter Smit. 
Personally, I have matured a lot throughout my time at TOPdesk and now have a clear vision and goals of where I want to be in the future." – Elsa 
sales vs marketing: marketing is the gun that you shape, design, and brand whereas sales is pulling the trigger!
Jess
The learning never stops!
"Training for SBDE doesn't end once you've got to grips with the software and sales. Instead, we have opportunities for continuous training! For example, Sandler helps us with our sales technique, we practice demonstrating the TOPdesk software so that we're up-to-date with new features, external ITIL training gives us product, industry, and best practice knowledge, and we have sessions like feedback training to help us with communication and our wider professional skills. 
My favourite training so far has been TOPdesk Bootcamp. Around six months after joining the company we spend a week at headquarters in the Netherlands meeting new people, networking, and attending a variety of workshops. It really helps to integrate you into the wider company!" – Jess 
Unexpected perks of the job
"I didn't expect to be given the wide range of opportunities that I have experienced when I first started as SBDE. One of the most unexpected opportunities was when I got to visit Norway for an international event. It was education-focused and we decided to go along as many potential customers from the UK would be attending too. 
It proved to be very fruitful and its success has opened up the opportunity to attend more international events! I really enjoyed the experience and can't wait to do more things like this." – Lavina 
Team spirit: The key to success!
"The SBDE team is small but mighty! We all get along really well and each brings different aspects to the role, which makes us really diverse. Jess works closely with the webinars team, Callum is a big part of the team working on Corporate Social Responsibility, Jack is our product knowledge guru, while Lavina keeps us up-to-date on Artificial Intelligence, and I get involved with the Software as a Service (SaaS) side of things. 
Having all different parts of the TOPdesk umbrella in one team really helps us to be more efficient. And, of course, we also enjoy spending time together outside of work! Sam, our team leader, organises lots of bonding activities for us such as white–water rafting and sip and paint!" – Elsa 
"Having that personal connection with everyone in the team is key to our success. We could be having a random chat and then suddenly we've come up with a new idea or initiative. Inspiration comes from anywhere and our team spirit really allows us to be innovative!" – Jess 
Proactive, Hungry, and United.
"If I were to describe the SBDE team in one word it would be proactive. We have all jumped into projects and initiatives without ever being asked. I'm very proud of the effect my team has had on TOPdesk as a whole!" – Lavina 
"Hungry is the first word that springs to mind. We are all curious, we all want to grab opportunities, we are all sales hungry!" – Jess 
"Personally, I think we are united. I feel like I'm part of a little SBDE community here in the UK. We all support each other and work towards our goals together." – Elsa 
 A collaboration piece by Elsa Lusadisu, Jessica Prankard and Lavina Bhambra.