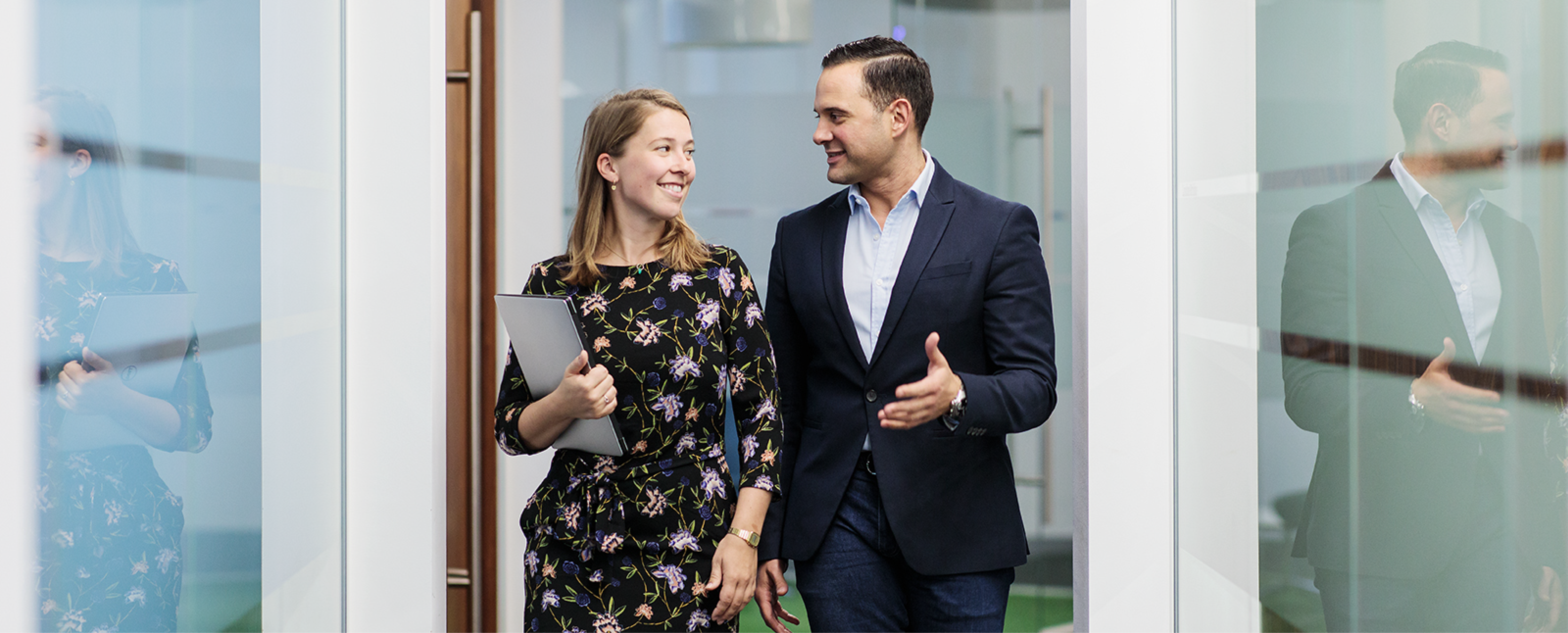 Working in Account Management: customers, communication, and more
Will and Rafal are members of TOPdesk UK's account management team. Will has been at TOPdesk since 2012 and works in the London office. Rafal joined the team in 2018 and is based out of Manchester.
In between calls with potential customers and demonstrations of the TOPdesk tool, they sat down and discussed what life as an account manager at TOPdesk is like:
From mixing ingredients to mixing with new people
"I studied History and Archaeology at Reading University, then did a Master's in Publishing at Kingston University. My first venture into the world of work was as a chef back home in Bath, where I grew up, before moving to London for my job at TOPdesk.
While working as a chef is not directly related to software sales, I was used to working to tight deadlines, enjoyed working in a team, and felt a great sense of achievement when the hard work and long hours paid off: this has certainly helped with my current role.
Not having a background in sales at IT really did not matter. All I needed to know was the TOPdesk product and be comfortable talking to new people every day. I'm naturally a good communicator so this didn't faze me at all." – Will
The varied life of an account manager: on-site, in the office, and attending events
"A big part of our job is to manage our own pipelines and hitting our quarterly sales targets. Our day-to-day tasks really depend on whether there is an on-site meeting, a show to attend, or working in the office.
For days when I am in the office, there are several activities to do. The majority of my time is spent communicating with customers and prospects. For every sales opportunity, I will spend time talking with the customer, qualifying their needs, finding the best solution to help them, and creating the commercial package to suit. A lot of my job consists of putting customers in touch with the right people, whether it is our legal team, our technical team, or even other customers, to help them get the information they need and share their experiences.
If I am away from the office, I will often be travelling to customers or potential customers to discuss what TOPdesk can offer. I very much enjoy consultative selling, where you take the time to understand a customer's needs and find the best solution for them. Knowing about our product and services is key.
I may also be asked to attend a trade event to either show more people TOPdesk, present to the audience if there is a showcase or generally demo the software to people who come to the stand. These days are busy but satisfying and I know the contacts I make from them will help me reach my target." – Rafal
A big part of our job is to manage our own pipelines and hitting our quarterly sales targets. Our day-to-day tasks really depend on whether there is an on-site meeting, a show to attend, or working in the office.
Rafal
Teamwork and collaboration, the key to success?
"At TOPdesk we really value working in teams. Recently, we adopted an agile methodology that has brought departments into closer alignment both here in the UK and our colleagues overseas. This gives better transparency to what different teams are working on and allows opportunities to join interesting projects as well.
The idea that we all work together and help each other out runs deep. While each account manager has their own targets and goals to achieve, and are competitive by nature, it really feels like we are working with each other to reach our goals, rather than competing against each other. To encourage this, team outings are regular and popular – whether it is a small business unit going out for drinks and a meal, or the whole company taking a day out to spend time with each other away from the office. At TOPdesk we really believe in the idea that a happy team works better and creates happier customers." – Will
Benefitting from the TOPdesk ethos
"TOPdesk is very true to its ethos: trust, freedom, and responsibility. What this means for employees is that they are trusted to do the right thing, given the freedom to undertake projects and, ultimately, make decisions with flexibility.
As an account manager, having the ability to make decisions on how best to go about targeting a particular market segment, completely free of micro-management whilst still being able to receive guidance when needed, makes this a truly great place to work. Everyone takes away their own meaning from the three words in the ethos, but they are an important part of the culture and one that has made us unique." – Rafal
A collaboration by Rafal Kasprzyk and Will Sibley.