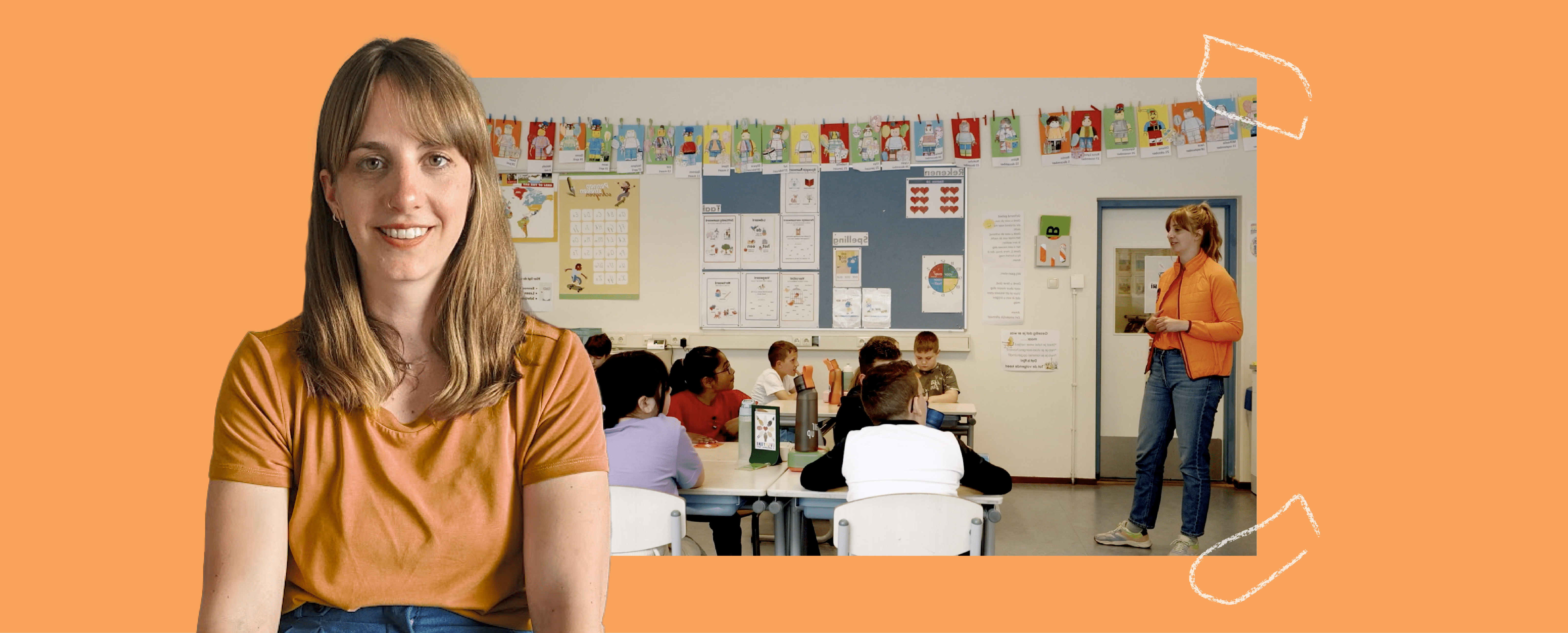 Bekijk vertaling
Volunteering during working hours at TOPdesk: Celine is a guest lecturer for KiKa
TOPdesk became successful internationally by paying attention to job satisfaction. If what we do makes us smile, the rest goes without saying. We work hybrid and have plenty of time for training and volunteer work. All this contributes to the satisfaction we get from our professional life. Copywriter Celine Vervaet is a voluntary guest lecturer for the Children Cancer-Free Foundation (KiKa). In this blog, she tells us all about it.
Time for volunteering
"As a copywriter, I take care of the content on TOPdesk's Dutch job site, write for our social media channels and am involved in everything related to employer branding. I am one of the few Belgians at TOPdesk's Delft headquarters and enjoy teaching Flemish words and expressions to my colleagues. Fun fact: my daughter's name is Robin, just like the TOPdesk logo. A funny coincidence for someone so engaged with TOPdesk's employer brand identity!
Outside working hours, I write prose, enjoy climbing and inline skating and spend time with my family, friends and relatives in the Netherlands and Belgium. As you can imagine: my days are busy. Finding time for volunteer work is a challenge. The fact that TOPdesk recently freed up 2.5 per cent of our time for this is wonderful."
Raising awareness about childhood cancer
"When I was eight years old, I saw what it means for a child to fight cancer. That's how I learned that organisations like KiKa are vital. Not only to support sick children and their families but also to research childhood cancer, so that the disease can be cured more effectively.
On KiKa's website, I saw an appeal for volunteer guest teachers in primary schools. I have worked with young people, so I was immediately excited! As a guest teacher, I make children aware of what cancer is. The interactive lessons lead to wonderful and valuable discussions in class. Primary schools can request the guest lesson for free, and KiKa can always use enthusiastic volunteers. Of course, there are no guest lessons in the summer, so I will have extra time for them in autumn! You can read all about it on KiKa's website."
Finding time for volunteer work is a challenge. The fact that TOPdesk recently freed up 2.5 per cent of our time for this is wonderful.
Celine
TOPdesk and CSR
"The great thing about the time TOPdesk allows me to volunteer is that I can now actively commit to an organization I care about. 2.5 per cent of my contract time means I volunteer for KiKa about half a day a month. This always happens by mutual agreement, so I can combine it perfectly with my personal and work schedule.
Of course, doing volunteer work shouldn't mean I have to work overtime the next day. I get the space for it because Corporate Social Responsibility (CSR) and community involvement at TOPdesk are just as important as the business goals."
Do you also want to spend 2.5 per cent of your contract time volunteering at TOPdesk? You can! We have lots of open vacancies!