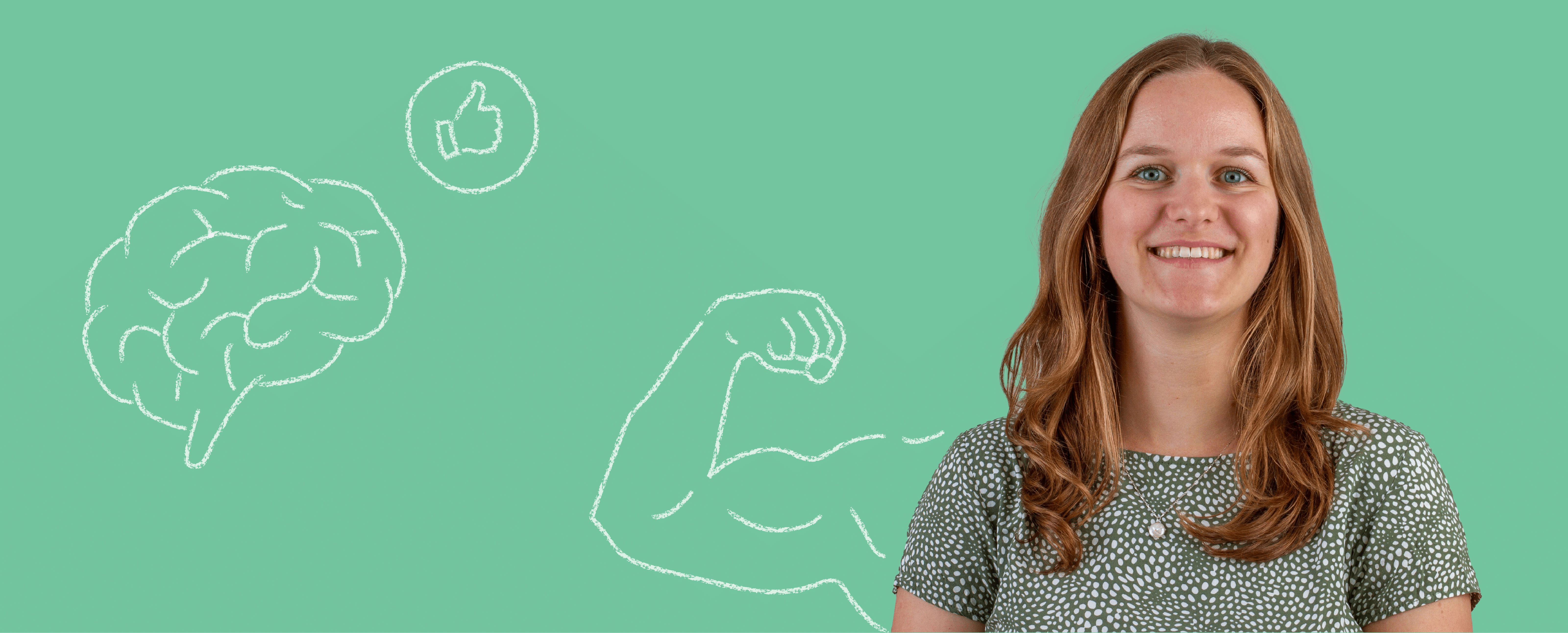 Bekijk vertaling
Vitality and balance: how TOPdesker Arlette stays fit
At TOPdesk, we believe it is very important that employees feel mentally and physically fit at work. So, how to make sure we achieve this healthy balance? Together with IT team coordinator Arlette de Bakker, in this blog we reveal vital TOPdeskers' secrets: from Tabata bungee to our individual vitality budget.
Exercise for body and mind
As team coordinator, Arlette is responsible for no fewer than six IT teams at our Delft headquarters. Admittedly, an office job is not ideal for our bodies, but this does not stop Arlette from staying fit. So how does she fit exercise into her working day?
"First, I alternate sitting and standing when working and go for a quick walk after lunch every day with a group of colleagues. You can also play pool, table tennis or table football at the office to relax during a break. Also, I am not the only one at the office who is a complete fan of Anne-Marie, our in-house masseuse. Once a month, she loosens my stiff muscles in a wonderful chair massage.
I need it, because I do quite a lot of sport. In fact, if I don't do sports at all, my close colleagues soon notice my change of mood. Fortunately, TOPdesk offers lots of sports opportunities. For example, I regularly take part in the outdoor training on Mondays. We go as a group, so we motivate each other if one of us is not feeling up to it. It's always a surprise to see what challenges our trainer Roeland has thought up for us!
There is also the Sport of the Month on Wednesday evenings. In the past few months, this has ranged from mindful running to yoga and kickboxing. Last month, I took part in Tabata bungee: a high-intensity workout in which you hang from the ceiling by a kind of bungee. There were some pretty hilarious moments!"
Individual vitality budget
Every TOPdesker has their own needs when it comes to vitality. That is why we introduced the vitality budget this year: a monthly budget that we can spend not just on sport, but on anything that benefits our physical and mental health.
To explore our personal needs, there was an opportunity to take part in a preventive medical examination (PME). Based on the results, TOPdeskers are now seeing a coach, taking part in sleep research, visiting a dietician, starting mindfulness and much more. Or, they simply use the budget to pay for their brand new gym membership.
Arlette: "The PME certainly provided some enlightening insights. I spend my budget on personal training. Every Thursday evening, I attend small group training where the trainer helps me to achieve my personal goals."
The preventive medical examination certainly provided some enlightening insights. I spend my budget on personal training.
Arlette
Finding balance
Arlette is taking advantage of every opportunity that we provide at TOPdesk to stay fit and healthy. The way we organize our work also helps her.
"Before corona, we worked full-time in the office, which I found quite tough. Now, I divide my time roughly fifty-fifty between the office and working from home. This provides a perfect balance between the social aspect and focus tasks, for which I prefer fewer stimuli around me. I am in the office for meetings and calls, but the tasks I would do in the office with headphones on, I can just as easily get done at home."
Every TOPdesker looks for and finds balance in a similar way. And if we don't have time to prepare a decent lunch at home or to grab a piece of fruit? No problem. TOPdesk serves fruit and a free, organic and mostly vegetarian/vegan lunch buffet every day, so we definitely get our daily dose of vitamins. And on Fridays, there are 'bitterballen'. After all, we were talking about balance, right?
Will you soon be taking advantage of all the vitality opportunities at TOPdesk? Perhaps you could join one of Arlette's teams! Check out our vacancies.